Gamer Supreme

Posts: 16
Joined: June 12th, 2012, 5:29 am
Favorite Game: Killer Instinct
Location: Pacific Northwest, USA
Contact:
Yes, I ripped this idea from another forum. I'm one to notice odd/interesting frames when pausing the emulator.
Anyway;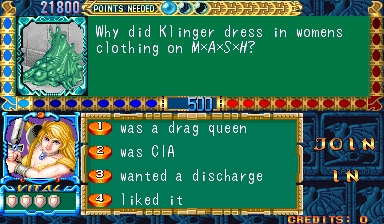 "I'd rather be hated for who I am, than loved for who I am not."
***Kurt Cobain***
---
Arbiter

Posts: 716
Joined: November 20th, 2009, 6:15 pm
Favorite Game: QBert Ms Pacman
Location: Colorado
I know the answer. Klinger wanted a Discharge!!! lol

That's all I got.
My child, you have come to me my son. For who now is your father if it is not me? I am the well spring, from which you flow. When I am gone, you will have never been. What would your world be, without me? My son.
~Thulsa Doom~
---
Founder

Posts: 2105
Joined: June 5th, 2008, 3:20 pm
Favorite Game: Marvel vs. Capcom 2
Location: Metro City
Contact:
LOL I just reviewed that game!
---